Die Enttäuschung
Die Enttäuschung

recordings
Die Komplette Enttäuschung
art catalog plus CD
released September, 2023

Art: Katja Mahall, Design: Karl Mahall

Rudi Mahall: bass Clarinet, clarinet, baritone saxophone
Axel Dörner: trumpet
Jan Roder: bass, electric bass
Michael Griener: drums

recorded May 1st and 4th at alte Kita, Berlin, by Michael Griener
mixed and mastered by Axel Dörner
produced by Robert Hoedicke and die Enttäuschung
Two Nineteen Records 2-19-011
Music Minus One
released Jujy, 2023

Rudi Mahall: Bass Clarinet, Clarinet
Axel Dörner: Trumpet
Jan Roder: Bass
Michael Griener: Drums

recorded by Michael Griener ....
mixed and mastered by Alex Huber
cover art by Katja Mahall
two nineteen records 2-19-010

reviews
Monks Casino
live at AuTopsi Pohl
released April, 2023, Vinyl only

Rudi Mahall: Bass Clarinet, Clarinet
Axel Dörner: Trumpet
Alexander v. Schlippenbach, piano Jan Roder: Bass
Michael Griener: Drums

recorded on November 6th, 2021 by Olaf Rupp
mixed and mastered by Alex Huber
cover art by Katja Mahall
produced by Robert Hoedicke
two nineteen records 2-19-007

reviews
Lavaman
released November 17, 2017

Rudi Mahall: Bass Clarinet, Clarinet
Axel Dörner: Trumpet
Christof Thewes: Trombone
Jan Roder: Bass
Michael Griener: Drums

Intakt CD 289

all rights reserved

Die Enttäuschung has worked its way through whatever combination of bass clarinet, trumpet, double bass and drum you can think of. With Alexander von Schlippenbach they scored a coup: Monk's entire oeuvre presented in one live concert and documented in a three-CD box set. The Enttäuschung not only absorbed an unbelievable amount of jazz history, they also transferred it into a living musical process, musical lava.

Rudi Mahall writes in the CD-booklet of the forth release on Intakt Records:

"...with our leaning to perseverance practiced over 20 years we searched for a congenial drummer and we got Michael Griener aboard: 100 % enthusiasm as prerequisite and the same taste... in a band like this the drums are the fulcrum, they navigate sound and form, like a conductor does in a classical orchestra, and Michael Griener is a master! And why add Christof Thewes? First: once you find a songwriter of this caliber hold on to him! Second: every band needs a trombonist like this! Third: Thewes gives hell to the wind section and Four: he is the most full-blown improviser.

The engine runs like greased lightning – hear for yourself!"

Reviews on Intakt
Vier Halbe
released 2012

Rudi Mahall: Bass Clarinet, Clarinet
Axel Dörner: Trumpet
Jan Roder: Bass
Uli Jennessen: Drums

Intakt CD 211

Since the 1990s the four musicians have been working through all the possible combinations of bass clarinet, trumpet, double bass and drums. Working with Alexander von Schlippenbach they achieved a coup: Monk's entire oeuvre presented as a live concert throughout one evening and documented in a three-CD box set.
The traditional music is played anew, and the traditional is reflected in the new. This is the way jazz always developed, through minute shifts suddenly manifesting themselves as huge breaks with tradition – at least to people who were not following its history. Die Enttäuschung have absorbed an unbelievable amount of jazz history and transferred it into a living musical process, musical lava, formed by aworking band who are still able to surprise themselves, unfurling the full potential of their musical imagination with the new album Vier Halbe.
Bert Noglik, from the linernotes

Die Lust am Musizieren, der Spaß am Vexierspiel mit konkretem Material und Klangabstraktion im Spannungsfeld zwischen Perfektion und spontaner Reibung: Die Berliner Band DIE ENTTÄUSCHUNG legt ein neues Meisterwerk vor mit dem typisch mehrdeutigen Titel «Vier Halbe». Nach dem Bestseller «Monks Casino» ist es die dritte Platte von DIE ENTTÄUSCHUNG auf Intakt Records. Bert Noglik schreibt in den Liner Notes: «Die Kombinatorik mit Bassklarinette, Trompete, Bass und Schlagzeug haben die Vier seit vielen Jahren in allen erdenklichen Varianten live ausgetestet. Die Enttäuschung hat unglaublich viel Jazzgeschichte absorbiert und diese in einen lebendigen Spielprozess versetzt – musikalische Lava, geformt durch eine Working Band, die sich noch immer selbst zu überraschen vermag und die mit «4 Halbe» das ganze Potential ihrer musikalischen Phantasie entrollt.»


Die Enttäuschung 5
released 2009

Rudi Mahall: Bass Clarinet, Clarinet
Axel Dörner: Trumpet
Jan Roder: Bass
Uli Jennessen: Drums

Intakt CD 166

What's the best jazz como today? An elder statesman's allstar band? Some recent hotshot conservatory grads? A mid-career hero's touring group? For my money, none of the above. Instead, an unassuming, mildly self-abnegating foursome from Berlin is the heaviest working band in small-group jazz. Die Enttäuschung – a name that invites its own comments (and deflates any grand self-assertion like the above), translated as "the disappointment" – has been around since the end of the '90s …

Playing intimate quartet music firmly rooted in free-bop, with an open sound, melodic improvising and a clear delight in swinging (and interrupting the swing), the group's frontline is immediatley arresting, a gush of musicality …
The band takes the good old idea that charts are springboards for playing, for music that is not on the page. There's an absence of rigidity, there is serious listening, a playful attitude, humility and musical ambition, all rolled into one. No disappointment, at any level.
John Corbett, Downbeat

Die beste Jazzcombo von heute», lobt die amerikanische Jazzzeitschrfit «Downbeat» das Berliner Quartett Die Enttäuschung und schliesst den Artikel mit dem Statement: «No disappointment, at anly level».

Die seit mehr als zehn Jahren bestehende Band mit Rudi Mahall, Axel Dörner, Jan Roder und Uli Jennessen legt auf ihrer neuen CD – die fünfte Veröffentlichung und die zweite CD auf Intakt Records – 14 Eigenkompositionen vor. Diese Nr. 5 ist wohl die stärkste Platte der vier: Sie spielen gereift, spritzig, hellwach, immer sprühend vor Spiellust. Eine intime Quartettmusik, die im Freebop wurzelt, mit einem offenen Sound, melodischen Improvisationen und einer unermesslichen Freude am Swing und Drive.

Reviews on Intakt
Die Enttäuschung 4
released 2007

Rudi Mahall: Bass Clarinet, Clarinet
Axel Dörner: Trumpet
Jan Roder: Bass
Uli Jennessen: Drums

Intakt CD 125

In the nineties, the quartet Die Enttäuschung [The Disappointment] released their first record solely with pieces by Thelonius Monk. Die Enttäuschung managed the feat of radically remaining faithful to Monk and staying in close touch with the originals, and yet placing them on their heads. The four from Berlin celebrated a great success several years later with the recordings of the entire works of Monk on the 3-CD Intakt box with the pianist Alexander von Schlippenbach. The media has reacted euphorically to "Monk's Casino" (Intakt 3CD-Box 100).
br> Now Rudi Mahall, Axel Dörner, Jan Roder and Uli Jennessen have released a CD with 17 of their own compositions. "This band knows no borders between yesterday and tomorrow" writes the German magazine Jazzzeitung about the quartet. "Die Enttäuschung is more Berlin than Berlin itself and, moreover, unparalleled in nearly every respect. Collective improvisations beyond convention will drive up your blood pressure and fantastic solos take away your breath." Or it is, as the music journalist Felix Klopotek (Spex) sees the music from Die Enttäuschung, "concentrated intensity. Exactly that what one wants to hear from jazz today."

Reviews on Intakt
Monks Casino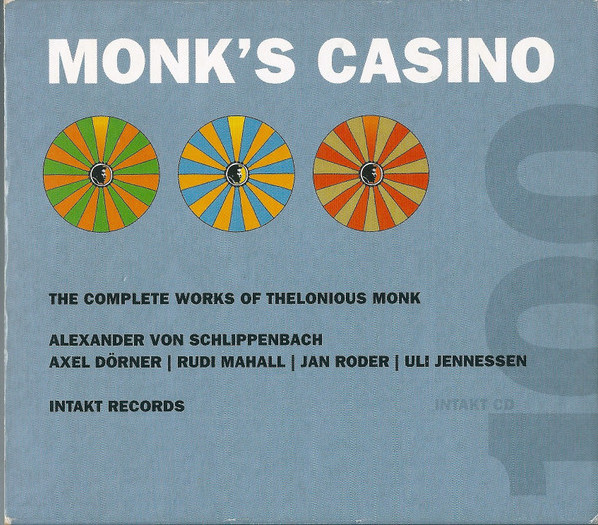 released 2005

Rudi Mahall: Bass Clarinet
Axel Dörner: Trumpet
Alexander v. Schlippenbach, piano
Jan Roder: Bass
Uli Jennessen: Drums

Recorded June 19, 20, 2003 and February 24, 25, 2004 at «A-Trane», Berlin
Engineer: Rainer Robben
Cover Art: Philip Hillers (Monk's Casino)
Grafic Design: Jonas Schoder
Liner Notes: Alexander von Schlippenbach, John Corbett
Executive Production: Patrik Landolt

Intakt CD 100

Here is the first ever complete Monk oeuvre project, undertaken by pianist and composer Alexander Schlippenbach, himself no stranger to Monk's songbook. The oeuvre challenge was, to create arrangements of all Monk's compositions – sometimes elaborate and lengthy ones, sometimes quick and simple ones – that would allow a listener to experience the entirety of Monk's compositional accomplishment in a relatively singular timespan. But at the same time to refrain from becoming overly puristic or precious about it, not treating it as some museal mausoleum for the entombment and enshrinement of Monk's dead music, but retaining the liveness and the essentially subversive spark that makes Mr. Monk so beautiful.
John Corbett, Liner Notes

Monk's Casino is not an encyclopedic project, but an arrangement of the complete works of Thelonious Monk for live performance in one evening. At Monk's Casino, things often happen fast and sometimes get quite turbulent, too. Still, everything is well organized and, to that degree at least, under control. So here we go!
Alexander von Schlippenbach


Reviews on Intakt
Die Enttäuschung 3
released June, 2003

Rudi Mahall: Bass Clarinet, Clarinet
Axel Dörner: Trumpet
Jan Roder: Bass
Uli Jennessen: Drums

recorded by Rainer Robben at AudioCue Berlin
mixed and mastered by Axel Dörner
cover art by Katja Mahall
Crouton – crou025


Founded in 1999 by prolific Milwaukee artist Jon Mueller, Crouton was a record label, online magazine, and distributor of other music.
Its releases included work by The Hafler Trio, Daniel Menche, Osso Exotico, Jason Kahn, Aranos, Robert Haigh, Jason Kahn, Bhob Rainey, Achim Wollscheid, and many others. Crouton's releases were assembled in unique hand crafted packaging and were generally pressed in limited editions. The label ceased operations in 2009.


Die Enttäuschung 2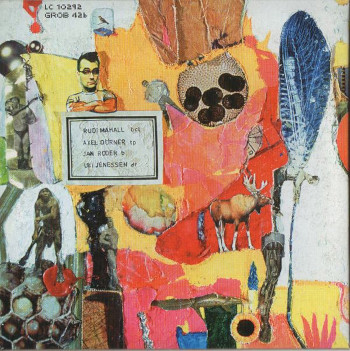 released march, 2002

Rudi Mahall: Bass Clarinet, Clarinet
Axel Dörner: Trumpet
Jan Roder: Bass
Uli Jennessen: Drums

Recorded 1996 in Berlin by Ahmed Chouraqui at On Air Studio
Cover art: Katja Dötsch
Design: Sandra Benz
Produced by Burkhard Schlothauer
Published by GROB
CD 246 / 2002
GROB


Die Enttäuschung 1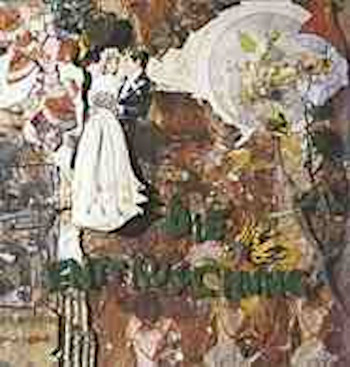 released 1996

Rudi Mahall: Bass Clarinet, Clarinet
Axel Dörner: Trumpet
Joachim Dette: Bass
Uli Jennessen: Drums

Recorded on 8 August 1995 at Anorak, Berlin
except Track 11, on 6 August 1995, same location
Cover art: Katja Dötsch
Published by Two Nineteen Records